Create a one of a kind piece of Soundwave Jewelry using your personal recording.
Custom Soundwave Jewelry is a concept which was created by Danielle Crampsie in 2005.
As an artist and classically trained goldsmith she takes the visual image of your personal sound wave and engraves it onto a piece of one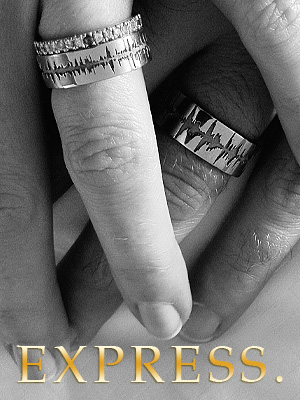 of a kind custom jewelry.
Sound waves, being self identifying, allow you to record your own personal history and express your unique visual language.
Custom Soundwave Jewellery creates an opportunity for you to write your own story and solidify it in history.
You can record your wedding vows to create engraved sound wave wedding rings. Messages of encouragement or poems of love can be translated to sound wave pendants or dog tags. Your favorite song or personal mantra can be encrypted into sound waves and engraved onto a custom soundwave bracelet. Memorial jewelry can be created if you have a recording ( audio or video) of your loved one who has passed on.
Danielle takes a quality over quantity approach to her work.  Each piece of Custom Soundwave Jewelry is handcrafted with the upmost attention to quality and created to generations.
How to make Soundwave Jewelry:
The first step in creating your piece of custom engraved soundwave jewelry is to choose the kind of jewelry you would like to make. You can choose to create a custom soundwave ring, soundwave necklace or soundwave bracelet.
Soundwave earrings, cufflinks and other types of adornments are available upon request.
Your next choice is your metal type. On the website you can choose between steel, silver or all karats of gold. Each metal type has different design options available. If you are curious about another type of metal or a different design then shown please contact Danielle Crampsie about your unique request.
After choosing your design options Danielle will be in touch to discuss your sound wave voice recording. Recommend audio recording lengths for the various designs will be provided. If you already have a sound wave Danielle will suggest a design based on the look of your personal voice wave recording.
Soundwave Jewellery can be created remotely and shipped worldwide.  Creating a recording on your home computer is easy. Instructions based on your available technology and recommended recording lengths for your design will be provided.  Any type of audio file can be emailed to:  info@daniellecrampsie.com.  You will be shown a computer rendered drawing of your sound wave to approve.
During the process of creating a one of a kind piece of custom soundwave jewellery you will be communicating directly with Danielle by email or phone. As a custom goldsmith she is always open to your creative ideas; questions and requests are welcome.
Danielle will use her expertise to help you create the perfect piece of jewellery.  Add engraving, incorporate stones, choose decorative finishes.  Bring all your ideas to the table and we will work together to create a truly unique one of a kind expression of you.
Record your wedding vows, document your baby's first words, immortalize the voice of a special person who is no longer here, celebrate your first hit single, archive your valedictorian speech.  The possibilities are endless and the choice is yours! Record your personal history, write your own story and solidify it in history with a piece of Custom Sound Wave Jewelry.
Creating quality custom jewelry by hand is a process. Every step is done with patience and care to ensure the quality of your creation.  Please allow 4-8 weeks for the production of your one of a kind piece of Soundwave Jewellery.
All pieces are mailed express post with insurance and tracking to ensure your special piece of jewelry arrives in your hands safely.